I know, this post is a total cop out, but can you blame me? It's Nano week one and I want to spend my time drafting. If you want a real post, check out my
Love Letter to Sirius Black
.
Today I'm posting some pics of our favorite wizard family: The Weasleys! Enjoy!

The whole (movie) family! I wish there was more Bill and Charlie!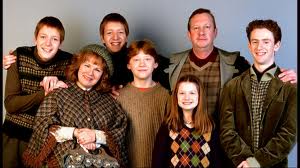 The Twins!




Poor Won Won!




And no post would be complete without the family curmudgeon!


ATTN POTTER FANS: I'm putting together a feature for the week of the release and I need your help! Please email me
[mmremshard@gmail]
all your favorite things about the series. Make sure you give me a link to your blog so I can credit you!
And to make this post a
little
bit about writing, I'll leave you with my current Nano word count: At 8:03 AM I'm at
5,975
words. I'm going to try and get to 10,000 before the weekend. Wish me luck!